Wireless innovation has been around for some time now. Remote charging in cell phones has gotten on over the most recent a year or something like that, it hasn't been embraced on a mass scale. Remote earphones, then again, have been gradually and consistently making their quality felt in the market. Brands like Bose, Sony, Samsung among others have a better than average scope of remote earphones. Samsung's current expansion to its remote range are the Level Active earphones. We utilized the Samsung Level Active in-ear earphones for some time and this is the thing that we consider them.
Like most innovations, remote earphones too have seen a development. While prior age of remote earphones had a couple of plan glitches and execution issues, throughout the years they have been smoothened out. Samsung Level Active gets most things right, beginning with the plan. The primary basic thing is a remote in-ear earphone must be accommodation which starts with the correct weight.
The Level Active in-ear headphones are lightweight and boast of an attractive design. Available in four colour variants – pink, green, white and black – the earpieces are light. For convenience, Samsung has guven different sized eartips andearhooks. There's an in-line mic which has power controls including volume buttons and call receive/end button. The left earplug opens up for microUSB charging whereas the right earplug is used for switching on or switching off the device. There's a flat wire that connects both the earplugs and comes in handy.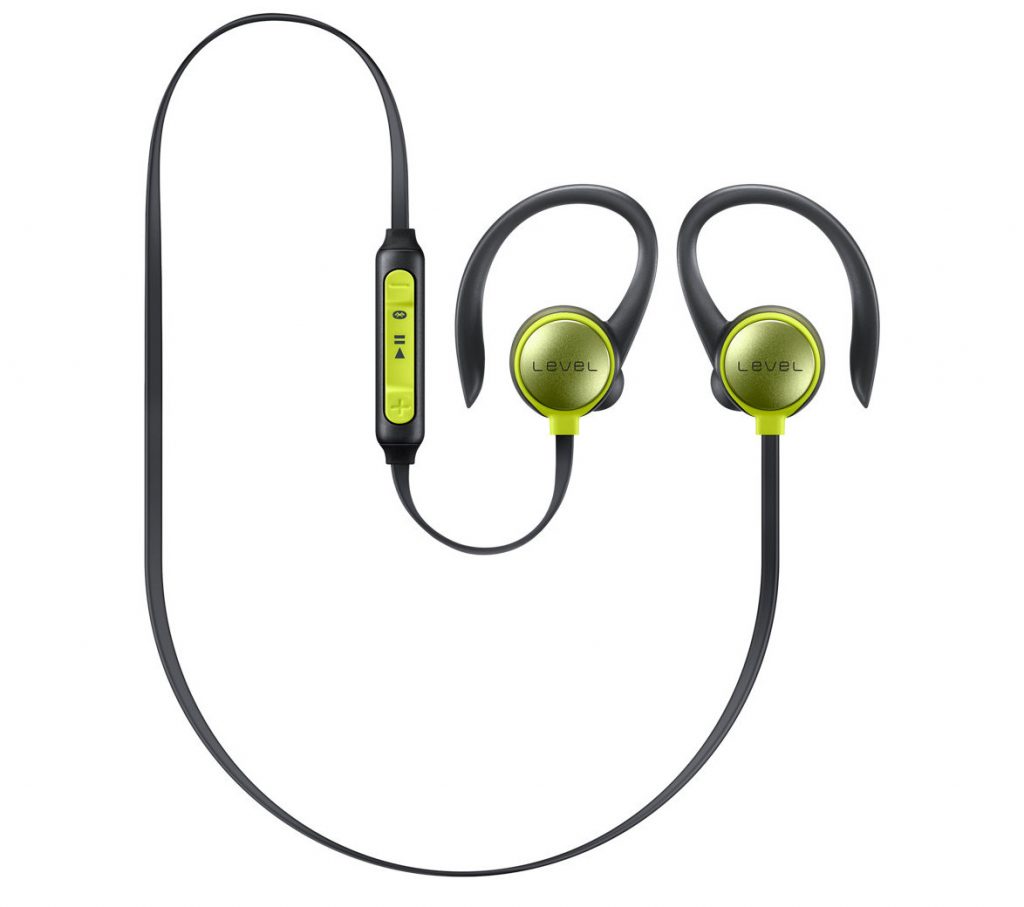 Performance
The Level Active's wingtips are impressive as the flexible hooks help them stay in place firmly. There's also splash-resistant P2i coating for protection from sweat and a little rain. It comes with Bluetooth Version 4.1 and in-built Li-ion battery which the company claims will last up-to 5.5 hours and up-to 250 hours of standby. The battery delivers good performance and a full single charge lasts close to five hours of moderate usage.
Read More :  iOS 11 Has Yet Another Phone Breaking Bug
When it comes to sound quality, Samsung's Level Active in-ear headphones supplies good output. The device weighs only 18.2 grams but packs in a punch on the performance scale. We listened to some peppy, upbeat music to kick off the sound test and weren't disappointed with the results. The highs and lows are balanced but there was less punch in the bass.
We then moved on to warm, acoustic – including some Sam Smith – and the in-ear headphones did a good job. One slight issue some might find is with the volume as it is certainly on the higher side. However, that's something one can let slide as there weren't any other issues with the sound quality.
There's a bonus feature with the in-ear headphones as it lets you track workout regimes through an app and thus eliminating the need of an extra fitness band. The call quality of the mic was reasonable. The fact that in-ear headphones are so lightweight works in their favour tremendously. One isn't worried about wearing them even while jogging as they don't drop off or slide on to the neck.

Verdict
At Rs 4,999, some might argue that the Level Active in-ear headphones are priced on the steeper side. There's tough competition from the likes of Skullcandy, Beats and other brands which offer good quality products at the same price. What works in Samsung's favour is that they've a product which scores well in design, performance and looks – there's nothing more you can ask for. Still, if you feel that spending Rs 5,000 on an in-ear headphone is a bit much, there's a plethora of options available for lesser price.